I've put together a second collection of my previously published stories, Widgets & Wizardry (the first collection is Sorcery & Spaceships). Widgets & Wizardry includes nine of my stories that were published after I put together the first collection. Some of the stories are science fiction and some are fantasy, and the lengths range from flash fiction to novelette. Scroll down to find a more detailed description below the cover image. The collection is only available on Smashwords and Amazon at the moment, but I'll update the info page as soon as it makes its way to the other retailers.
My next project is to put together a paperback collection (along with an ebook version) which will include all of the stories from Sorcery & Spaceships and Widgets & Wizardry, so if you want to hold off on buying this collection, you will soon have the opportunity to get almost all of my published stories in one place!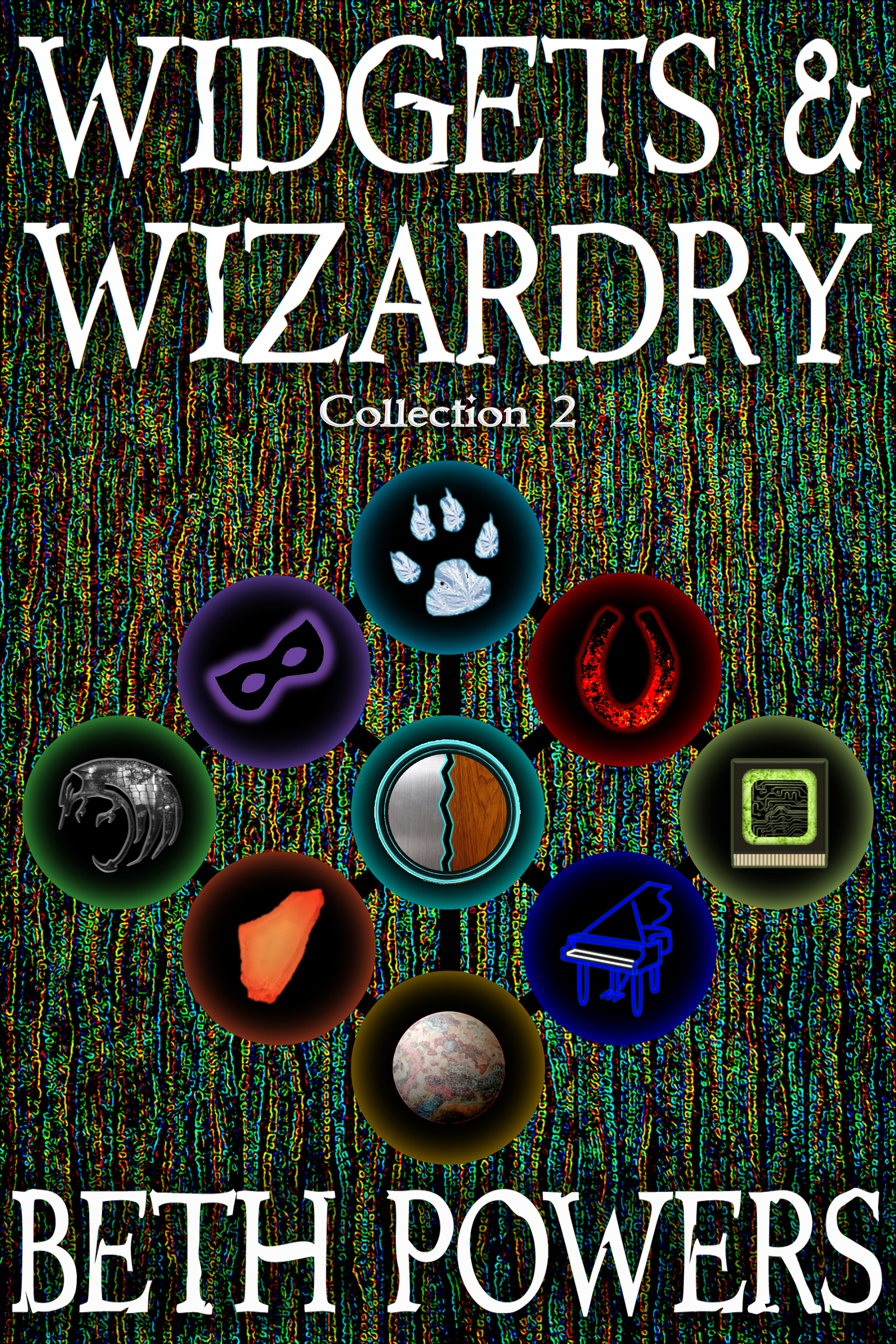 In this science fiction and fantasy collection, explore new worlds–magical as well as those among the stars–where you will meet dragons, nightmare beasts, superheroes, shapeshifters, spies, and more. Encounter new tech and new communities filled with friendship, prophecy, rebellion, and revenge. This collection is ideal for the reader who enjoys a variety of sub-genres and lengths.
This collection includes nine stories by Beth Powers:
A Small Kindness: The potter-mage down the lane seems intent on putting Bram out of business, but when Bram offers a small kindness to a stranger, will it help or hurt his efforts to thwart his rival's plan?
Retirement: With the intergalactic war over, they were supposed to be enjoying retirement. Instead, Mona learns that her husband has died in a gravcar accident, leaving her to hunt his killers. But the couple has too many enemies, and she doesn't know where to start. She'll have to untangle this new threat before she can retire in peace.
Inheritance of Nightmares: Even dragons could not defeat the nightmare beast that pursues Sian and her unique blend of magic. With nowhere else to go, she returns to the foothills she once called home. She knows it will track her there. It always does. Having escaped his own nightmares, Dagr lives a quiet existence in a mountain cave until his path crosses with Sian's–and that of her nightmare beastie.
The Day the Future Invaded: The future invades in the middle of winter, bringing people, buildings, and technology. The scientists are stumped, but how will the average person react to all of these changes?
A Prophecy and the People: When the Bard's tale is interrupted by soldiers from the fire king's army, she must try to escape the town without letting her unpredictable magic destroy it. But the question is, have the townspeople been listening to her tale of prophecy and action? Will they aid her, or turn her over to the soldiers? Each person must decide for themselves.
Changing Keys: Everyone thinks Niall is dead, which leads him to believe he can finally get his life back on track. But when his old enemies return with a plan that involves a dangerous magical update, Niall must choose between the safety of those closest to him and the woman he loved and lost.
Dear Superhero: The solitary superhero must walk her path alone, concealing her identity and pushing all of her loved ones away. This is the way the superhero before her acted, but is this the way it has to be? A masked vigilante ponders these questions of connections to others and comes to her own conclusion.
Running Into the Rain: On the run from the citymen, intergalactic spy Greg Meredith has one hope of figuring out who is responsible for blowing his cover. He needs to escape his enemies and review the data on his neurochip. Running toward the ranchlands in the rain, he will encounter unexpected allies and enemies before he uncovers the truth.
Claimed by the Sea: The sea does not relinquish treasures. The mender understands and has no intention of saving the water-logged woman until he notices the islands on her arm. She is a Guardian. Guardians protect the islands. Guardians call dragons from the sky. Itziar knows this island needs a Guardian–children are being snatched under the cover of storm and darkness–but can she save them without losing herself?