I put together a collection, entitled Sorcery & Spaceships, which includes of all of my stories published prior to 2015 (scroll down below the cover for descriptions). I'm experimenting with the relatively new preorder system at Smashwords, so it won't be released until November 15th.
EDIT: Oddly enough, buyers can't actually preorder on Smashwords, just their retailer network. But I still want to offer a preorder price, so I'm making the price $1.99 (it might take a few days to distribute to the retailers). On the release day, the price will increase to the regular price of $2.99, so reserve your copy at Barnes & Noble, iBooks, or Kobo now!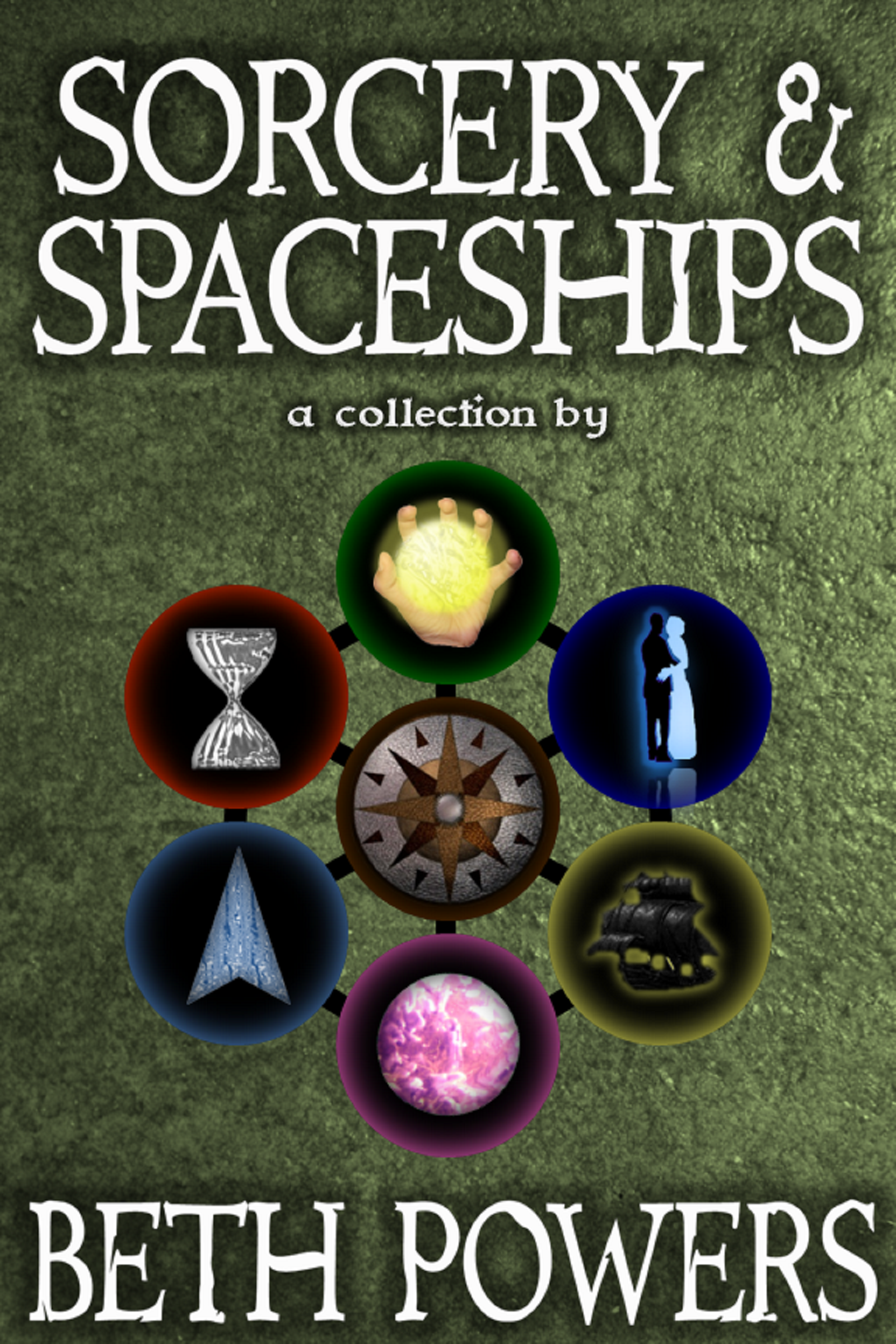 From pirates to dragons, these stories include spaceships and magic, covering a range of genres from fantasy to science fiction to romance. Containing debts and duels, family and friendships, loss and love, this collection is ideal for the reader that is interested in a little bit of everything.
This collection includes seven stories by Beth Powers:
Captain Sable's Crew: Some would call him a pirate, but Captain Devlin Sable tries not to call himself much of anything. He's more concerned with putting together a reliable crew. However, the Empire has other ideas–it wants him dead, and it's willing to pay in gold.
Konstantin: When his brother falls for a pretty face and unwittingly lets a threat on board, it is up to Konstantin to stop the hacker before it is too late. There's just one problem—Konstantin is the ship, with his brain hardwired to its systems. By attacking the ship's computer, the hacker is attacking him, and in order to gain complete control, she just might have to shut him down for good.
Nothing Altered: With the southern portion of the kingdom in rebellion, the Crown has begun accepting commoners as candidates for its elite fighting force, the Prince's Legion. Tyna decides to ask if they are also willing to take a woman.
Sparkles: Thomas was having a bad day. And that was before his ship started drifting toward a Molasses storm.
Racing the Sand: Someone–or something–is attacking travelers on the caravan road. But Rastaban doesn't know that. He wants to start someplace new, where no one knows about the power he inherited from his mother. So he walks away, leaving his brother to cross the desert alone. When Rastaban hears rumors about the attacks, he abandons his plans and races across the desert in an effort to reach his brother in time.
H2O: Love, betrayal, loss, and regret. She refuses to cry over the man she once loved. But he asked her to have one last drink for him, and at the very least, she owes him that.
Trying to Fly: Chiara's parents were taken by the Guardians when she was a child, and she never felt like she belonged on her aunt and uncle's farm. They fear the power she wields, but Chiara intends to marry a nice farmer and let them forget she even exists. Or, that was her plan until a stranger fell from the sky and disrupted all of their lives.